ERP for clothing manufacturers has been vital in this sector due to the complexity of operations. The textile and apparel sector, which includes clothing, footwear, textile, and luxury fashion, was valued in trillions of dollars. Every business here is impacted by seasonality, worldwide demand, operational expenses, weather, and climatic factors.
This robust ERP for clothing manufacturers system can help you enhance your job productivity and your bottom line. Many garment firms lack ERP, causing operational issues and slowing growth.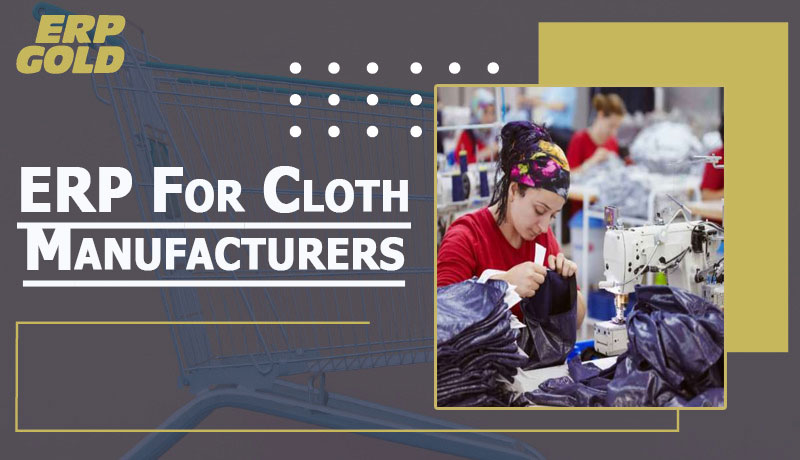 A
Why ERP software is the only standing stick for cloth manufacturers'
The complicated procedure requires close collaboration across departments, there is no integration (fabric store, sampling, spreading and cutting, sewing, quality assurance, finishing and packaging, finance, etc.). This sort of company requires completely integrated software that can connect many divisions.
No real-time management– In today's industrial environment, real-time viewing, editing, and reporting are essential. Collaboration and communication are critical for businesses.
There are many papers that go unnoticed due to lack of effective management and security routes.
Excess or stock-outs– If you can't complete orders or your inventory prices are too high, you risk losing customers and revenue.
ERP is the key to simplifying every operation in a textile and apparel production unit today. ERP is an integrated business tool that helps you manages operations methodically to boost efficiency and save time.
An ERP for clothing manufacturers system streamlines information flow across departments, lowering costs and increasing employee happiness. ERP offers cutting-edge technology that can be adapted to your individual company requirements, allowing you to save both money and time.
Advantages of ERP for Clothing Manufacturers
Intelligent clothing manufacturing ERP software system automates order generation and streamlines company procedures. It enables you to manage orders, alter BOMs and designs, and easily convert BOMs to work orders, track items along their path, handle small batch runs, and do much more. This improves staff efficiency and time management.
Material need planning the garment sector must adapt to evolving client needs. An ERP system helps producers keep track of supplies and resources to minimize stock outs. Manufacturers can readily see real-time business data to make quick and informed choices.
ERP for clothing manufacturers can create an automation and respond to consumer concerns and requests in real-time while decreasing human entry and mistakes.
An ERP system eliminates employee data paperwork, data recording on sheets, data re-entry for billing reasons, time waste, and paper form loss.
Your operating and administrative expenses might be lowered by up to 15% when everything is in order.
Choosing the proper ERP system for your company may be difficult and time-consuming. In addition to assessing KPIs and offering a 360-degree perspective of your production unit, a full-fledged ERP system may help your firm reach its long-term and short-term goals.
Reduce stock-outs and inventory silos
ERP for clothing manufacturers and apparel production helps you keep track of your costs while keeping a consistent product mix. Effective management requires a flexible and mobile Warehouse Management System integrated with a manufacturing ERP.
You can swiftly complete purchase orders and delegate tasks to the best individual using ERP software. It reduces mistakes, data input, and other boring tasks.
Replace manual replenishment or transfer orders with an ERP system that allows real-time monitoring and reporting of a warehouse, shop floor, procurement, and shipping resources.
The ERP dashboard is a multi-purpose hub
One dashboard shows Quality Control, Production, RCCP, Pegging, Warehouse Management, Finance, HR, Sales, Marketing, and the Shop Floor.
ERP provides accurate information to authorized users working remotely. This enhances communication with suppliers, customers, and employees.
Don't forget the letter "E." This is ERP's actual aim. It aims to unite all corporate divisions and operations under a single computer system. The integration increases internal corporate procedures and efficiency.
ERP as a linking pin between all the departments
ERP connects production, design, customer service, finance, sales, and distribution activities. You may increase work flow and efficiency by integrating business processes and people throughout your organization.
ERP for clothing manufacturers helps you to fulfill your goal
Prices are coming down, quality is improving, and delivery is faster. ERP adoption demonstrates your commitment to that goal. Your company partners and customers will be more confident.
ERP software reduces or eliminates duplication
This ERP for clothing manufacturers' software eliminates duplication of labor, automates operational processes, and provides quick access to data. So ERP may save you a lot of time.
Customized by modifying displays
Advanced ERP software may be customized by modifying displays, fields, and the architecture via progressive installation methods. Advanced ERP software may also be controlled securely online. These qualities allow for easy installation and operation.
Helps in standardization procedures and increase quality
Various business divisions within a firm create the identical widget using different processes and computer systems. ERP helps standardize procedures and increase quality.ERP enhances company process flow and fulfillment efficiency. It reduces inventory. It reduces the entire company cost.
ERP is a technique to unify all your company processes.
To get the most out of the program, your employees must adapt the software's work techniques. ERP initiatives fail if individuals disagree with the technique and the system cannot be adjusted. So choose ERP for clothing manufacturers software prudently.
Ending Thought
ERP is a technology solution that automates all the functions of an organization including accounting, payroll, and inventory management, purchasing and sales. ERP implementation in industries like textile manufacturing will help them to improve their business operations and achieve growth. So sign in your ERP for clothing manufacturers software now and enjoy the modernization.
[vc_row swatch="swatch-green-back-w-all-white-text" width="no-padded"][vc_column align="center" column_colour="#283d58″ align_sm="center" width="1/1″][button size="lg" label="Try 14 Days Trial" link="https://us.erp.gold/register" link_open="_blank" custom_color="true" background_color="#ffffff" text_font_color="#283d58″][button size="lg" label="Request a Demo" link="https://calendly.com/erpgold" link_open="_blank" custom_color="true" background_color="#ffffff" text_font_color="#283d58″][/vc_column][/vc_row]
read more