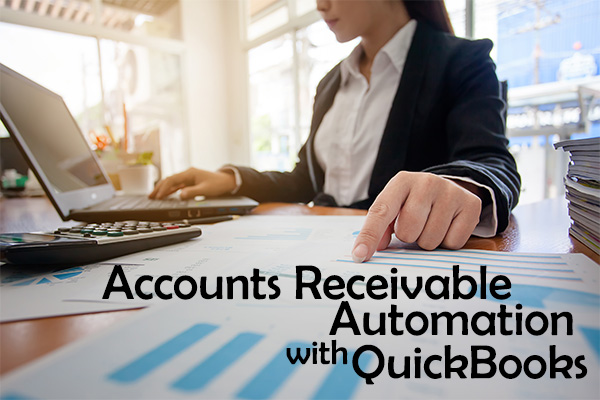 Digitizing and making computerized invoicing methods are called Account Receivable Automation. Adding QuickBooks integration into Accounts would make it accounts receivable automation with QuickBooks. It performs a lot of different tasks that take away precious time of the company in normal conditions, such as; Using QuickBooks data for creation of invoices. Electronic delivery system for the invoices according to dates provided. Automated reminders, payment reconciliation from bank accounts and QuickBooks data, etc. The support of multiple types of payments is also present.
Whether your business is large or small, you will face challenges in Accounts Receivable processes. In order to increase the cash flow there is always a pressure on the managers handling the receivable information. All the help in the world is required to be up to date with the current status of the client so the business's financial information looks feasible to look at. Automating the process of Account Receivables can help a lot in this matter and make lives easier company wide.
Following are a few benefits of automating your Accounts Receivables with QuickBooks;
1. Payment Processes at a Low Cost
We all know that there are a number of processes software can do repeatedly, but in some organizations those tasks are done by employees and that causes wastage of time and increases the cost of payment processing. By simple automating Account Receivables a company can drastically reduce their payment processing costs and save a lot of time as well as increase productivity. If a company wants to grow their business and make their employees work on more strategic tasks, then a good start would be from accounts receivable automation with QuickBooks integration.
2. Smaller Payment Turnovers.
In every kind of business there are clients who always take the longest in making payments and in order to reduce the timing of them paying their bills, accounts receivable automation with QuickBooks is the best choice. Once automated systems are in place, invoices are immediately available to be sent to Customers, which makes the client aware of what they need to pay and makes the payment time shorter.
3. Time Saving
Usually what a company wide norm is that there are a couple of employees, always overburdened by the tasks of managing account receivables manually and it wastes countless hours of productive work they could do. Accounts receivable automation with QuickBooks will make the process faster. The time not spent in manually invoicing and menial tasks would end up in better placement of time in productive tasks, Better results in their efficiency, in comparison to manual scrutiny of the accounts in cases of mistakes.
4. Better Customer Service Standards
Customer Consolidation is the key to providing better customer service; if you get the receivable data of the client easily you will be able to handle operations better. Customers are mostly turned away from any company once they are provided inaccurate invoices and more than that loosing those invoices makes a huge issue, this situation is easily avoided once the QuickBooks integration is there and you automate your Accounts Receivables. A company can also avoid firing their employees due to some mistake caused in accounts data.
5. Less Chances of Error
Complications increase dramatically when there is some kind of human error occurring in Accounts Receivables due to manual data processing. With the use of accounts receivable automation with QuickBooks you can reduce these errors from occurring and the processing and storing of data is almost always accurate. Most of the time is spent in correcting mistakes made by new employees which can be easily avoided through the automation process.
Conclusion:
A company should never assume that just automating these processes will make everything better, human involvement will always be needed but rather than putting countless hours in manual work automation will make the work more efficient and help the employees perform their tasks better.